Full Truckload Logistics (FTL)
Reliable FTL Shipping Services
When you book your full truckload motor freight shipments with PITT OHIO, you gain reliable truckload capacity from a team of logistics experts. If you're looking for a dependable full truckload logistics extension to your business – simply tell us about your shipping needs and we will get to work finding the best FTL shipping solution for you.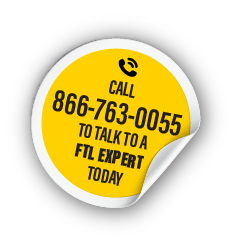 ---
Benefits:


Quick Response - You'll hear from our logistics experts within 30 minutes of your inquiry.
Reliability - 100% tender acceptance, 97% on time pickup and delivery, and damage-free freight delivery because of the relationships we have with a consistent group of FTL providers.
Visibility – Live data for track and trace and a dedicated team that offers proactive event notification. You'll know when it was picked up, when it delivers, and if there are any delays and why.
Strategic Rates – We can lock in rates for an agreed upon time period or we can offer dynamic pricing as the market capacity shifts on a daily basis.
Guaranteed Truck Capacity and Drivers – The volumes you share with us are guaranteed with our truckload providers and drivers. The truck and driver availability we quote for your volume shipments is guaranteed until the time of pick up.
Last Minute Solutions – Your emergency volume shipping needs are handled with ease. Our volume truckload staff members are the same logistics experts you will work with for emergency expedite shipping needs.
Proactive Event Notification – Don't worry, if an issue occurs with your full truckload freight, our team of dedicated account managers will get in touch with you before you hear from your customer.
Call 866-763-0055 to talk to an expert today.
---
Specializing in:


Time sensitive FTL shipments requiring an industry leading expedite service
Wide range of equipment and driver certifications to handle your unique full truckload shipping needs

Hazmat certified drivers to protect loads of hazardous materials
Flatbed trucks for heavy weight and large, odd-sized loads
Heated trailers to guarantee freeze protection for loads capable of freezing
Security measures and no touch freight procedures in place to protect loads of high value freight

Concierge cross-border service that gets your FTL shipments across the Canada and Mexico borders without delays
Intermodal expertise to move loads seamlessly between trucks, trains and cargo ships

Driver and truck capacity around the major water ports and railheads
Ancillary services around the ports including drayage, warehouse and transloading
Refrigerated container (reefers) for temperature sensitive, perishable FTL

Appointment Deliveries – concierge service where you share your clients contact information with us and we will connect with them to set up an appointment for delivery
---
Set It and Forget It vs. Play the Market
We give you the choice about your level of involvement.
You can set up your account with us and we handle everything you need for full truckload shipping for your business, or
You have the same load every day, but want us to play the market to ensure we secure the best price and available capacity for your FTL shipments.
How Do You Get the Best Full Truckload Shipping Service from PITT OHIO?
We excel at building relationships and have established consistent full truckload service standards with strategic FTL carriers in lanes across the country. Our strategic partnerships with 50-60 asset-based FTL providers, and a network of over 700 carriers in North America, provide 100% tender acceptance and 97% on time pickup and delivery. Because we use the same drivers in strategic lanes, we're the leaders at building relationships with shippers and consignees. These FTL drivers become familiar with your business and deliver a reliable, professional full truckload service, every time.
How do we choose the best Truckload carriers?
We work with carriers who align with our values, are financially stable, and family-owned, just like PITT OHIO.
We hold one of the best safety records in the industry and search for carriers who align with our safety standards and can report, at minimum, a satisfactory or above safety rating.

We trust Carrier411, which is the industry-standard database for carrier safety. Carrier411 allows us to research, qualify, and monitor carriers based on their safety, FMCSA compliance, performance, and other transportation metrics
Carriers complete an extensive profile of about 60 questions that includes age and quality of equipment, and an explanation of how they handle capital investments.

We keep a close eye on our strategic relationships and review each one every quarter.
Call 866-763-0055 to talk to an expert today.