Sustainability – Green Fleet & LEED Certified Buildings
PITT OHIO works every day to reduce our carbon footprint by following our corporate sustainability initiatives with our vehicles and our buildings. Our green fleet management practices start with maintaining and operating a modern fleet, and centers around improving vehicle practices with our drivers through training.
Integral to our green building sustainability strategy is our goal to promote the construction and maintenance of buildings that are environmentally responsible, efficient and healthy places to work. New construction projects are designed to meet certain sustainability standards in water, energy, and material usage efficiency to reach LEED, or Leadership in Energy and Environmental Design, Certification levels.
Two of our terminals are equipped with a patented renewable energy powered microgrid. In collaboration with Windstax Energy our renewable energy powered microgrid uses a patented, groundbreaking process that takes wind and solar energy into a battery system and the subsequent distribution of that power to points of use. PITT OHIO received a patent for this process in 2020.
PITT OHIO works every day to reduce our Carbon Footprint by improving vehicle practices and retro fitting our facilities. It is our goal to promote the construction and maintenance of buildings that are environmentally responsible, efficient and healthy places to work.
PITT OHIO Vehicles
Operating a modern, well-maintained fleet of the latest model tractor trailers, straight trucks and sprinter vans
Compressed Natural Gas Tractor Fleet (30 Units)
Automatic and automated manual transmissions
Battery Electric forklifts at our terminal buildings (89 total)
Progressive and proper shifting
Speed management – all equipment is subject to a 65 mph maximum speed
Leverage on-board computers to measure MPG per truck, terminal and region
No idling which eliminates excess waste and pollution
Skirted trailers for improved aerodynamics
PITT OHIO Buildings
5 LEED Certified buildings in the company
Light bulbs are replaced with more energy-efficient fluorescent compact eco bulbs, saving an average of 4,231,680 KWH
Appliances are energy-efficient with the energy star label
Water free urinals, which conserves 40,000 gallons per unit per year
Touch-less faucets in kitchens and restrooms
Portion controlled, hygienic towel dispensing systems
Waste product and paper recycling at all facilities
LEED CERTIFIED CINCINNATI VEHICLE MAINTENANCE SHOP
The Vehicle Maintenance Shop at the company's Cincinnati, Ohio terminal is LEED Certified and projected to have an energy cost savings of 20.75%. A water management plan was executed that focuses on proper drainage and a drain filtering system for water run-off. For the safety and comfort of our employees, PITT OHIO implemented a hardscape management plan using low impact landscape equipment. This type of plan uses electric powered machines, quieter motors and a time management schedule to avoid disrupting personnel. The company also increased ventilation and increased insulation values for thermal efficiency.
The Cincinnati Vehicle Maintenance Shop achieved LEED Certified status in 2015 and is PITT OHIO's first building to achieve a grade from LEED.
---
LEED GOLD CERTIFIED PITTSBURGH TERMINAL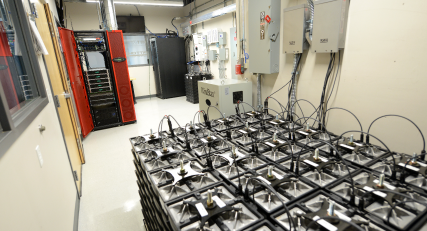 We're proud to be an early adopter of advanced distributed energy resources using renewable energy at our terminals to help achieve our sustainability goals. The Pittsburgh Terminal is home to our first groundbreaking renewable energy powered microgrid in collaboration with Windstax Energy the wind and solar-based microgrid uses PITT OHIO's patented process of taking wind and solar energy into a battery system and the subsequent distribution of that power to points of use. PITT OHIO received a patent for this process in 2020.
The 55,000 square foot terminal, responsible for servicing the Pittsburgh region, utilizes a low-emitting Energy Star roof positioned to reflect the highest percentage of the sun's rays, cooling the surrounding area and lowering air conditioning costs. 150 LED lights are used in replacement of incandescent, saving about $2,000 a year in electricity. With our interest in combating global climate change, we embraced geothermal energy and installed a well 500 feet into the ground. The geothermal well will utilize the Earth's temperature as a heat source in the winter and a heat sink in the summer.
The energy cost savings, when all forms of innovation are considered, are over 45% when compared to a conventional building.
The entire site uses sustainable landscaping including bioswales, which are man-made elements placed to remove pollutants and dirt from runoff. We also planted drought tolerant native plants to cut down on water usage and prevent flooding. Low-flow appliances and fixtures are also in place and are projected to save over 30% of the water that conventional fixtures would use in the same buildings.
In 2017, PITT OHIO's Pittsburgh Terminal received enough points to officially certify the location as LEED Gold, the first in the company's history. The 22,00 square foot Maintenance Shop Building located on the same campus received Gold distinction earlier in 2017.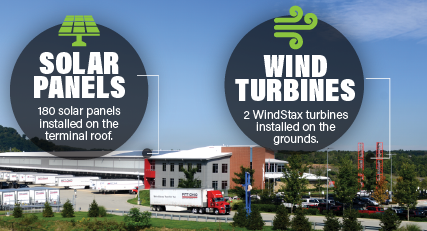 Click here for an inside look at our facility minutes off I-76 near Pittsburgh, PA.
---
LEED CERTIFIED EAST WINDSOR, NJ TERMINAL
PITT OHIO's East Windsor terminal, an existing building, achieved LEED certification for implementing practical and measurable strategies and solutions aimed at achieving high performance in: sustainable site development, water savings, energy efficiency, materials selection and indoor environmental quality.
The East Windsor terminal was the company's first step towards a greener tomorrow when they installed 1,094 ground mounted solar panels. These panels generate most of the facility's electric demands throughout the year. There are multiple months where the solar panel array is able to generate excess energy that is re-distributed back to the grid.
The building is also equipped with low-flow plumbing fixtures, reducing the amount of water consumed by the property by more than 20% when compared to standard fixtures. The building also replaced the lighting in the loading dock area with LED light fixtures, reducing energy consumption of the terminal.
The East Windsor terminal is PITT OHIO's 4th facility to achieve LEED status, earning Certified distinction in 2020.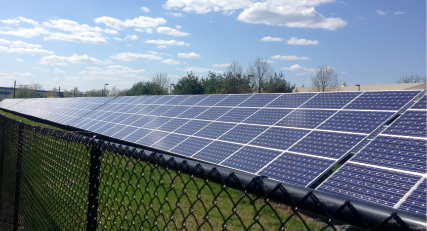 ---
LEED GOLD CERTIFIED CLEVELAND TERMINAL
In 2020, PITT OHIO completed construction of its new, state-of-the-art, LEED* Certified terminal in Parma, Ohio to service its customers in the Cleveland area. The 111,000 square foot building includes a terminal, mechanic shop, office and warehouse.
Guided by the company's LEED Gold Certified terminal in Pittsburgh, PA, PITT OHIO's goal was to reduce the building's impact on the environment throughout all phases of its life cycle, including: siting, design, construction, operation, maintenance and removal.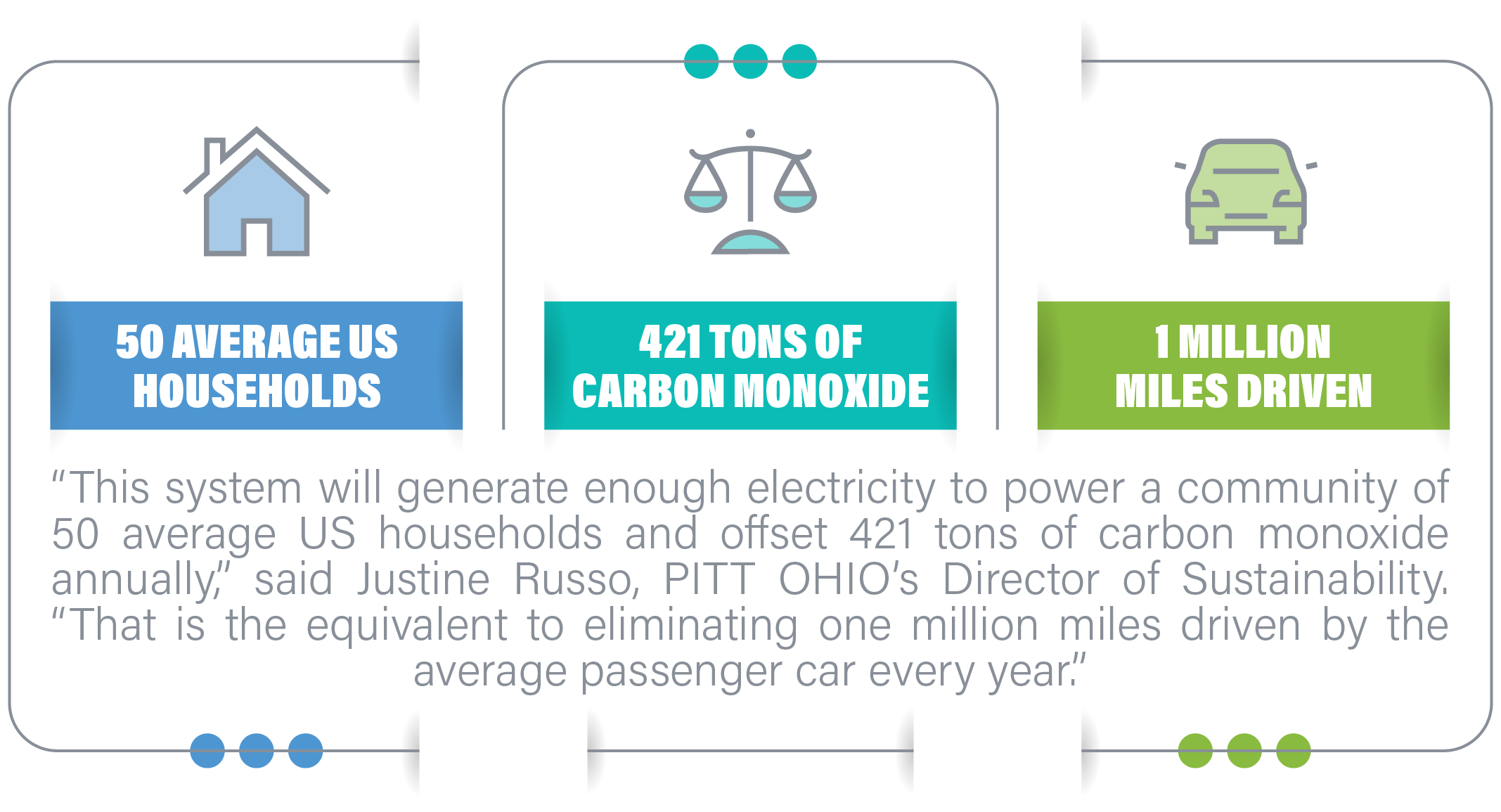 PITT OHIO replicated the solar and wind power plan from Pittsburgh and enhanced it by installing eight 60' Windstax Energy wind turbines and 1,500 rooftop solar panels to store 1mWh in the facilities renewable energy powered microgrid. The wind and solar-based microgrid will use PITT OHIO's patented process of taking wind and solar energy into a battery system and the subsequent distribution of that power to points of use. The system will generate 540,000 kWh of electricity annually to be stored and consumed on-site with the excess sent to the local utility grid.
The new facility is equipped to align with PITT OHIO's sustainable strategy and commitment to a sustainable culture. All three of our sustainability pillars, People, Planet and Purpose, were thought of when constructing our Cleveland terminal.
The building site orientation is situated to take advantage of maximum daylight capacities. Large translucent window panels were installed on the dock to allow for abundant natural light during the daytime. Over 870 LED lights were also installed, which are 80% more efficient than traditional lighting, and reduces the carbon footprint by up to a third.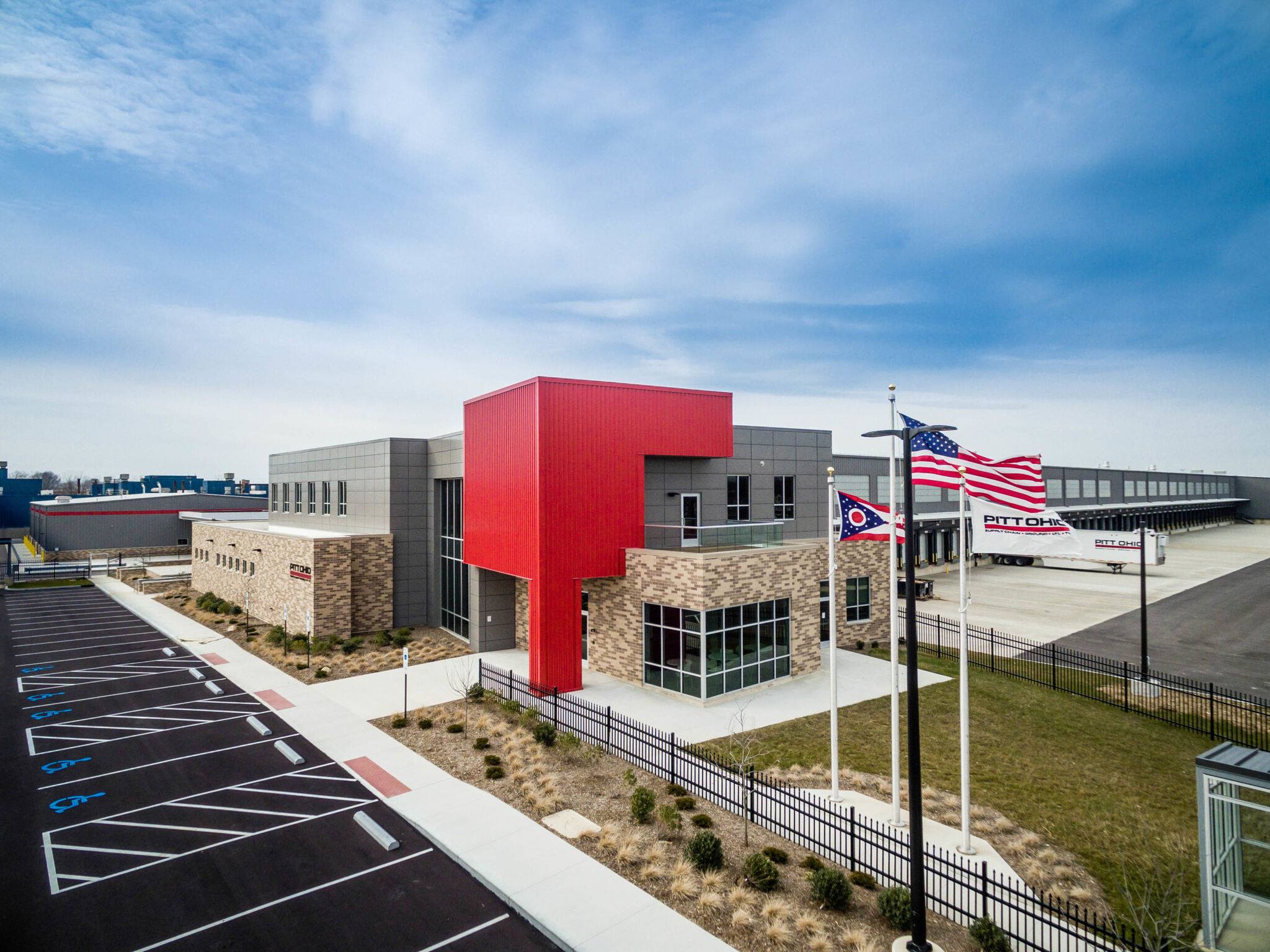 During construction, we used locally sourced materials and continued with recycled material on the inside with office chairs, work stations/cubicles, lounge seating, shelving and storage. You will also find low-flow fixtures and waterless urinals to reduce water use to 30% below the standard.
Outside, we planted water-efficient landscaping including native plants and species that are tolerant to the region's climate and installed storm water detention including bioswales. We have also installed our second geothermal energy heating and cooling system, which is an efficient process that takes advantage of the ground temperature of the earth.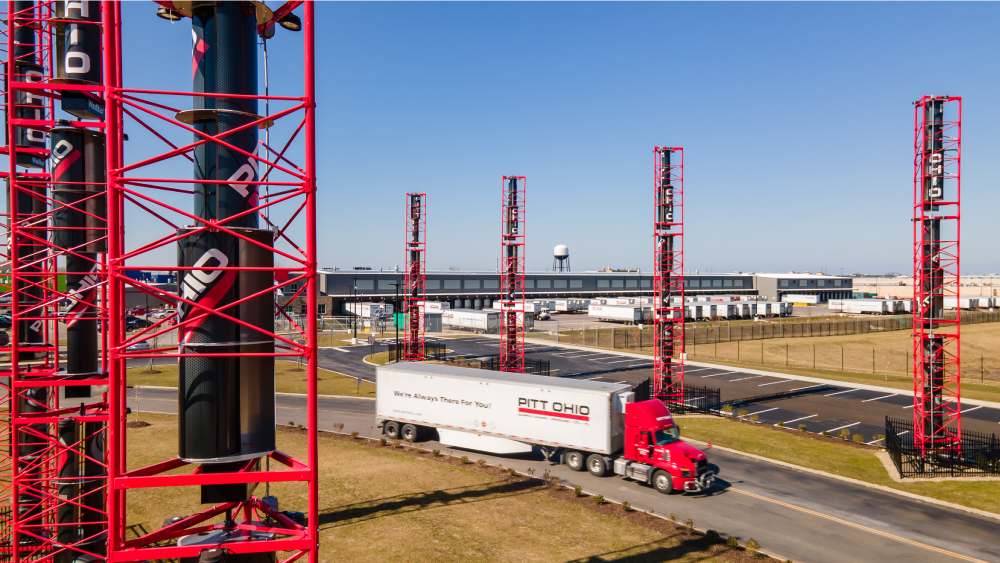 For the safety and comfort of our employees, the Cleveland terminal is equipped with electric forklifts, which save oil and electricity and emits zero carbon, creating a healthier work environment on the dock. We also installed LED security cameras, a solar charged electric security fence around the terminal, and a centralized security system throughout the office.
You will also find a sprinkler system in case of emergencies. The hazmat certified warehouse is heated for comfort and also includes oversized ceiling fans for efficient heat distribution.
The Cleveland terminal is the company's fifth LEED Certified building. in 2021, PITT OHIO's Cleveland Terminal and Warehouse building received enough points to officially certify both locations as LEED Gold, the third and fourth gold certifications in the company's history.