2022 Annual Report on Sustainability
In 2022, PITT OHIO continued to be a leader in sustainability through innovations that improve efficiency and reduce carbon. Sustainability is important to PITT OHIO for many reasons: it is a differentiator from the competition, it supports our employee-centric strategy, and it creates efficiencies that save money. Click below to learn more about our investments in renewable energy, and the sustainable initiatives we've adopted to build an organization that is community-focused and purpose driven.
---
Please click this image to download PITT OHIO's 2022 Sustainability Report!


---
The intersection of supply chain and sustainability continues to grow.

In 2022, PITT OHIO collaborated with more customers than ever on their decarbonization and sustainability initiatives. Since launching our sustainability initiatives in 2011, PITT OHIO has leveraged our carbon calculator to understand our own carbon emissions as well as provide Scope 3 reports to our customers. In addition, this has been an exciting year for PITT OHIO as we added electric vehicles at our LEED certified Cleveland facility, which has our largest on-site renewable energy generation and storage.

Here are highlights from 2022:
---
Decarbonization
Over the past 5 years, we continue to reduce overall emissions in all years, including after our business came back after the pandemic shutdowns reduced shipment counts in 2020: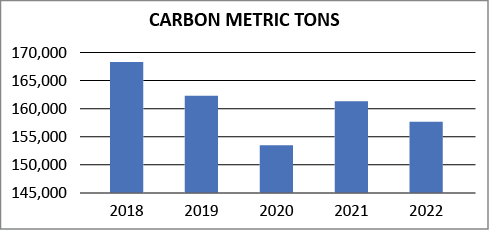 When we normalize the result by shipment count, carbon per shipment has decreased by 6% over 5 years:

Below we show how we've improved in each of our largest emission categories:

Tractor miles per gallon improved 7.6% over 5 years. This continuous improvement is calculated to have saved 2 million gallons of diesel and 20,000 metric tons of CO2 over those 5 years.

In 2022, we saw a 3.2% improvement in tractor miles per gallon and a 4% improvement in straight truck miles per gallon for a total fleet miles per gallon of 3%.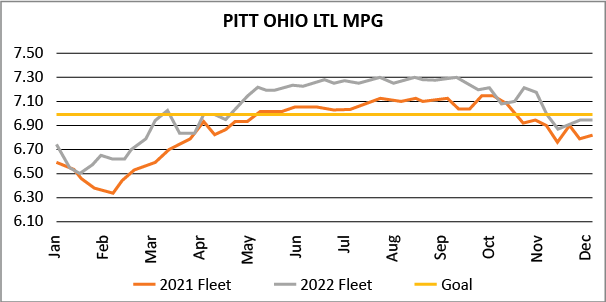 ---
Electric Trucks
In 2022 we launched electric trucks in our daily Cleveland operations. Below is an interview with Taki Darakos, PITT OHIO's Vice President of Vehicle Maintenance and Fleet Services, about what we learned in this past year about our electric trucks and how they can work in a less-than-truckload environment:
"The first thing about these electric trucks is that they are real. From day one we were able to put them into the operation. The drivers embraced them and customers are interested in them and how well it's working. They can do the work of the conventional units and do the routes without modifications or changes. Although we did learn that the Volvos do have a lower ground clearance, our drivers have done a great job adjusting to them.
The second thing is technology is changing so fast. The 75kW direct current fast chargers we put in in the Fall of 2020 were good. The batteries on the new electric Freightliner EM2 trucks we expect to be 315 kilowatts and will have a 200-mile range versus the 264 kilowatt batteries on the trucks currently in the operation. As we look out for these longer-range trucks with 11,000 pounds of payload, we could possibly electrify 85-90% of our box trucks. Then we have to start thinking about how the operation would charge these trucks, how much power would we need, how much load will we ask the utilities for, and how much will we generate onsite with renewables. And then you have to take into consideration the waves of trucks coming in at the end of the day and how they can get into the chargers.
At the same time, infrastructure is one of the harder things. You have to have discussions to find out if the utilities and municipalities are ready. In the US there are approximately 3000 utilities and each one is different. Each terminal location will be a different situation. All of the work that we started three years ago is paying dividends in terms of knowledge and relationships. We have people that we can reach out to for support: CALSTART, Clean Cities, and NACFEs. This is all building up to doing this on an even larger scale.
We also learned the vehicle's duty cycle is important. Cold weather can be impactful on these vehicles, just as it is on diesel trucks. We had a mild winter in the Pittsburgh/Cleveland area, so we didn't see the impact, but we will need to monitor that. We are also still navigating through what our mechanics can do. We are working closely with the manufacturers to do the high-voltage work, but everyone is still learning and we are in the thick of it. Another thing is having the internal resources, such as our Building Maintenance team and their contractors that are helping with the internal infrastructure. For other fleets, the Electric Power Research Institute (EPRI) has been working with the ATA to bridge the gap between the fleets and the utilities. Educating fleet managers, especially those with small or medium fleets is going to be important because this work is challenging."
This "toe in the water" has been so good to help us understand all of the things that need to be considered when going electric and to move forward. This is going to become more than a side project for Vehicle Maintenance and we are already adding resources to move things forward because as vehicle prices come down this will accelerate even faster!"
---
Estimated carbon saved with electric trucks: 31 METRIC TONS
Equivalent to taking 6 cars of of the road for 1 year.
---
Building the Terminals of the Future
Our Buildings team have been on the forefront of some of the most innovative changes to save energy and build best-in-class workspaces! PITT OHIO ended the year with five LEED certified buildings. In addition, many of our facilities are updated with:
Received Gold LEED certification for Cleveland Vehicle Maintenance shop
Completed LED lighting upgrade at Harrisburg, PA terminal
Added generators to offset power outages in Columbus, Chicago, and Cherry Hill
Currently have 11 weather stations at terminals to identify good candidates for future renewable implementations
Replaced steel banding used to secure freight with polyurethane, which is easier to recycle and less costly.
Created a supplier sustainability program as well as a statement of good business conduct
---
People
PITT OHIO was selected as a Top Workplace in 2022 at the Pittsburgh and Washington, PA terminals, as well as at our corporate headquarters. The Top Workplaces lists are based solely on the results of an employee feedback survey administered by Energage, a leading research firm that specializes in organizational health and workplace improvement. Several aspects of workplace culture are measured, including Alignment, Execution, and Connection. PITT OHIO has also been named One of America's Best Midsize Employers by Forbes Magazine in 2022, a list that is also determined by employee feedback. Overall our employee turnover rate is extremely low for the LTL industry.
---
Giving Back to the Community
In 2022, PITT OHIO employees gave to the following organizations: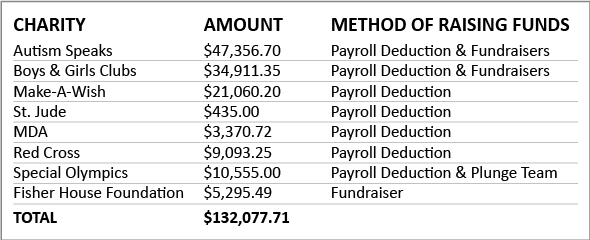 ---
Awards / Partnerships
Heavy Duty Trucking's Innovator awarded to Jim Fields
Ohio EPA Encouraging Environmental Excellence (E3) Program
Inbound Logistics G75
Parker Hannifin Sustainability Award
Carnegie Science Award 2022 for Corporate Leadership
Forbes America's Best Midsize Employers 2022
2021 Green Building Challenge Exemplary Project award from the Go Green Go Cleveland 2030 District
Members of

Ecovadis
Carbon Disclosure Project
Smartway
Calstart
Clean Fuels Ohio
Pittsburgh Regional Clean Cities
South Shore Clean Cities
North American Council for Freight Efficiency (NACFE)
---
For more information on PITT OHIO's sustainability programs, including our CO2 Track tool which allows customers to run their own carbon emission report, please visit www.pittohio.com/sustainability.