2021 Annual Report on Sustainability
In 2021, PITT OHIO continued to be a leader in sustainability through innovations that improve efficiency and reduce carbon. Sustainability is important to PITT OHIO for many reasons: it is a differentiator from the competition, it supports our employee-centric strategy, and it creates efficiencies that save money. Click below to learn more about our investments in renewable energy, and the sustainable initiatives we've adopted to build an organization that is community-focused and purpose driven.
Please click the image below to download PITT OHIO's 2021 Sustainability Report!

---
---
The intersection of supply chain and sustainability continues to grow.
In 2021, PITT OHIO continued to be a leader in sustainability through innovations that improve efficiency & reduce carbon. Sustainability is important to PITT OHIO for many reasons: it is a differentiator from the competition, it supports our employee-centric strategy, and it creates efficiencies that save money. Trucking is a resource-intensive business. Trucks and equipment are expensive and it has been challenging to find and hire drivers. Diesel fuel is one of the largest contributors to carbon emissions globally and makes up approximately 90% of our carbon footprint. Renewable energy has become a key part of our sustainability strategy as we invest in people and technology to drive efficiency, reduce fuel usage, provide excellent service, and create a workplace of choice.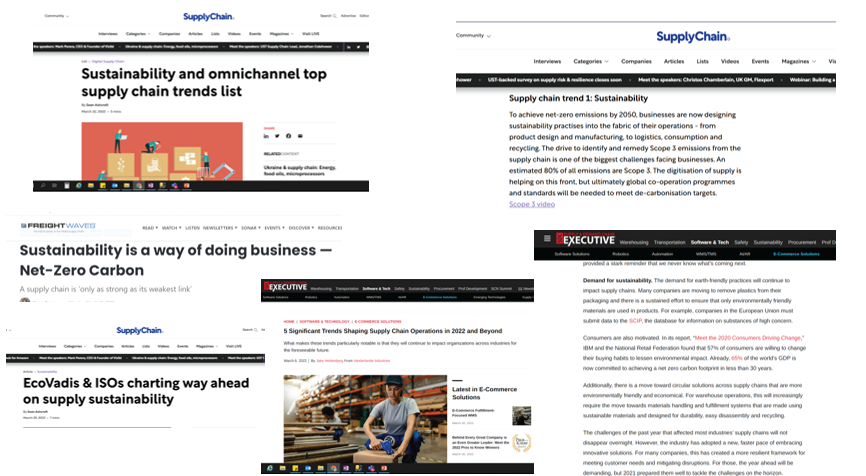 [1]
---
People
The American Trucking Association estimated that in 2021 the truck driver shortage would hit a historic high of just over 80,000 drivers [2]. This study estimates that the trucking industry will need to recruit nearly one million new drivers. These numbers also don't address the need for dockworkers across the United States. PITT OHIO has been addressing this shortage and our own hiring needs by:
Retention initiatives that include wage increases
Holding virtual job fairs
Apprenticeships
Surveying employees on engagement
In 2021 our overall employee engagement score was 75%. Our engagement score of 75% was a significant accomplishment as we faced significant challenges presented by Covid and the Great Resignation labor shortage. We have prioritized the needs of our employees ahead of the needs of our customers. At PITT OHIO employees come first and customers are a close second. We have listened to understand the changing needs of our employees. To that end we have become a more flexible employer and have incorporated a work-from-home business culture when the nature of the work permits.
PITT OHIO was named among America's Best Employers by Forbes Magazine for the second time in 2022. In addition, PITT OHIO was awarded a 2021 Top Workplace honor, placing 1st among large employers in Pittsburgh, Pennsylvania. For the third time, PITT OHIO President Chuck Hammel was honored as Leader of the Year in the large employer's category.
This past year we began a VoTech Technician Co-Op Program in Pittsburgh and West Middlesex. This is a program where we bring on-board High School Juniors or Seniors that are currently attending a VoTech school. The students are immersed in one of our mechanic shops, accelerating their education and growth in the industry. The two schools we are working with are Forbes Road Technical School and Mercer County Career Center. We are planning on expanding this program out to an additional 6 locations and are in the early stages of identifying the schools we will be partnering with.
---
Planet
Electric Trucks
2021 was an exciting year with the addition of 2 fast chargers at our Cleveland terminal for our 2 new Volvo VNR vehicles that we anticipate receiving in 2022. Click here to read more about these exciting new vehicles (link to Electric Truck Brochure).
Miles per Gallon
In 2021, we saw an increase in business as the economy opened up. Overall shipments grew 7% and correspondingly we saw the mileage that our trucks travelled went up 6.5%. However, with many fleet and operational improvements, gallons of fuel only went up 4.6%, an estimated savings of over 200,000 gallons of diesel fuel. These improvements include:
Utilization of straight trucks over tractors.
Updated preventative maintenance schedule intervals to ensure vehicles and tires are performing optimally. This not only helps overall miles per gallon performance it also saves oil & helps us weather oil shortages. The estimated reduction to oil was 12,000 gallons annually.
Continued moving older vehicles out of the fleet. In addition, these older vehicles were often used to help offset supply chain impacts to truck parts.
Adding automatic vehicles and automated manual transmissions, as well as skirted trailers for improved aerodynamics.
Training on progressive and proper shifting, speed management (all equipment is subject to a 65 mph maximum speed) and idling. In addition, on board computers are leveraged to measure and provide feedback on drivers' performance.
After a challenging start to 2021, the average miles per gallon ended above 2020 levels.
In addition, 2022 is already starting strong.
Building the Terminals of the Future
Our Buildings team have been on the forefront of some of the most innovative changes to save energy and build best-in-class workspaces! PITT OHIO ended the year with five LEED certified buildings. In addition, many of our facilities are updated with:
Locally sourced and recycled material content in seating, tables, office chairs, work stations/cubicles, lounge seating, shelving and storage, and height adjustable tables.
Storm water detention including bioswales and water-efficient landscaping including native plants and species that are tolerant to the region's climate.
Low-flow fixtures and waterless urinals reduce water use to 30% below standard.
Building site orientation situated to take advantage of maximum daylight capacities.
LED lights, which are 80% more efficient than traditional lighting, and reduces the carbon footprint by up to a third.
Electric forklifts, which save oil and propane and emits zero carbon. In many cases, the electric forklifts are powered by our patented renewable-energy microgrid.
Geothermal Heating and Cooling System, which is an efficient process that takes advantage of the ground temperature of the earth, which is a constant 55 degrees.
Radiant heated floors in maintenance shops.
---
Purpose
PITT OHIO is committed to doing our best to achieve environmental and social responsibility. As an organization we have a shared belief to strongly support the less fortunate and helping others in our community. It is with this sense of Purpose that we feel makes us different from any other transportation solutions provider.
Giving Back to the Community
In 2021, PITT OHIO employees and as a company gave to the following organizations: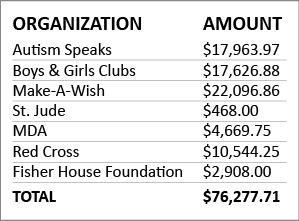 Awards / Partnerships
2021 Top 100 Trucking Company by Inbound Logistics
2021 Logistics Management Quest For Quality
2021 Top Green Fleet Heavy Duty Trucking
2021 Inbound Logistics G75
2021 Commercial Real Estate Development Association Awards
Members of

Smartway
Calstart
Clean Fuels Ohio
Pittsburgh Regional Clean Cities
South Shore Clean Cities
---
For more information about PITT OHIO's sustainability program, including our CO2 Track tool which allows customers to run their own carbon emission report, please contact Justine Russo, Director of Sustainability & Business Intelligence, or visit www.pittohio.com/sustainability.
---
[1] Trade Publication Articles
https://supplychaindigital.com/digital-supply-chain/sustainability-omnichannel-are-top-supply-chain-trends
https://www.sdcexec.com/software-technology/e-commerce-solutions/article/22043957/vanderlande-industries-5-significant-trends-shaping-supply-chain-operations-in-2022-and-beyond
https://supplychaindigital.com/sustainability/ecovadis-isos-charting-way-ahead-on-supply-sustainability
https://www.supplychainbrain.com/articles/34671-five-critical-enablers-for-creating-a-formal-sustainability-program
[2] American Trucking Association Driver Shortage Update 2021, October 25, 2021
https://www.trucking.org/sites/default/files/2021-10/ATA%20Driver%20Shortage%20Report%202021%20Executive%20Summary.FINAL_.pdf