Career Center - Professional Driver Apprenticeship Program
Your Road To A Successful Career
The Trucking Industry supports 7 million jobs throughout the United States and 3.5 million of those jobs are professional drivers. More than 80% of the United States relies solely on drivers to deliver their goods. This profession is necessary to our national and global economy.[1]
PITT OHIO wants to put you in the position to become part of this vital, growing and changing industry that will provide a wonderful career for your future.
At PITT OHIO our employees are our most valuable resource and the right candidate can move into specific career advancement opportunities. We are looking for hard working, committed and friendly individuals who would like the ability to climb the career ladder with our Professional Driver Apprenticeship Program.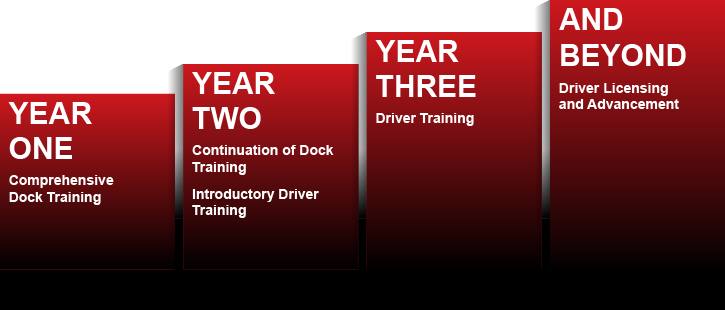 Click here to download the full brochure. Learn how our Professional Driver Apprenticeships can put your career in gear.

About PITT OHIO
PITT OHIO is a transportation solutions provider that has been in the business since 1979. We specialize in SUPPLY CHAIN services built upon our legacy LTL service. Our most significant resource is our people and we are dedicated to providing an environment that allows each employee the opportunity to perform to his or her greatest potential.
Our high standards have allowed us to recruit and hire the "best of the best."
We are committed to servicing our customers and believe our success is attributed to the dedication, pride and outstanding work ethic of our employees.
Our exceptional employee engagement rating allows us to be well known as a preferred employer in the Mid-Atlantic and Midwest United States earning Top Workplace honors at many of our terminals and corporate office.
At PITT OHIO we offer a wide variety of career opportunities and we are pleased that you are interested in learning more about our company.
State Of The Art Vehicles
Our employees work with top of the line vehicles equipped with the latest in technological advances. Ensuring the safety of our drivers on the road is our top priority, so we have installed essential safety systems in our vehicles.
Sustainability Commitment
PITT OHIO is committed to promoting sustainability. We pledge to improve the environmental and social sustainability performance of our business. Our sustainability goals support the 3 P's concentrating on People, Planet and Purpose.
Company Benefits
Overtime IMMEDIATELY after 40 hours worked
Vacation Paid At 45 Hours Per Week
Family Healthcare Insurance with no Weekly Premiums or Deductibles
Profit sharing and 401(k) Options
Company Paid Life Insurance
Company Health & Wellness programs
Financial Wellness programs
PITT OHIO offers part-time and full-time positions and advancement based on business needs and vehicle availability.
1^ Retrieved December 12, 2017, from http://truckingmovesamerica.com/aboutus/