PITT OHIO Adds 32 Next Day Lanes to and from New York State
Pittsburgh, PA (January 23, 2023) - PITT OHIO, a leader in transportation, warehouse and logistics services, announced today it has improved transit times to and from New York state by adding 32 next day lanes from the Mid-Atlantic. The LTL leader is now able to transport freight within one days' time to and from their terminals in Albany, Buffalo, Utica and Watertown to terminals in their Mid-Atlantic core territory.
Shippers gain improved, one-day transit times from 9 of PITT OHIO's terminals to and from Albany, Buffalo and Utica. Five PITT OHIO terminals in the Mid-Atlantic are now next day to and from Watertown.
"PITT OHIO is committed to providing our customers with best in class, next day service," said Executive Vice President and Chief Marketing Officer, Geoff Muessig. "Expansions such as this one to New York is a result of listening to our customers' needs and responding with service and solutions they require. When we expanded into the entire state of New York back in August with direct service, our first objective was to hire drivers and staff to help us improve service standards. We are the LTL carrier known for our quality service, reliability, and next day lanes.
"In addition to this improved service standard, shippers to and from New York can expect reliable LTL service and a wide range of solutions for the logistics challenges they are facing, Muessig continued."
PITT OHIO has extensive equipment capabilities including liftgates and heated equipment. In addition to LTL, PITT OHIO has an array of ancillary services including warehousing, drayage, fleet management, freeze protection, and more.
PITT OHIO announced in August 2022 the expansion into New York, offering direct service with 4 new terminals in Albany, Buffalo, Utica and Watertown.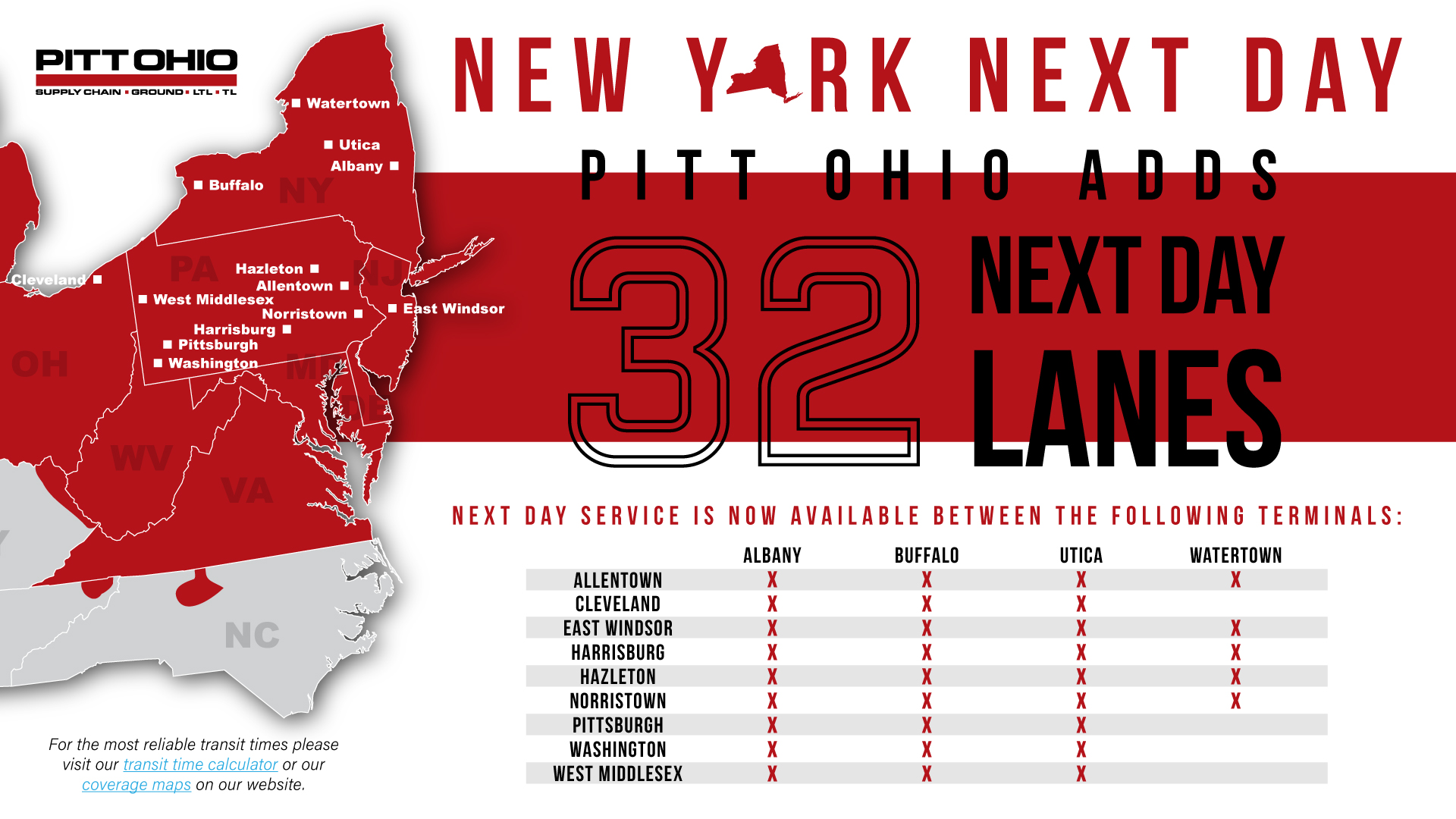 ---
ABOUT PITT OHIO
PITT OHIO has been providing the best value in transportation and logistics solutions to our customers for over 43 years, reaching over $900 million in revenue last year. Headquartered in Pittsburgh, PA, PITT OHIO services the Mid-Atlantic, Midwest, and Northeast regions. In addition to their legacy LTL freight solution, PITT OHIO provides supply chain and logistics solutions including expedite, freeze protection, truckload, warehouse and distribution, container transloading, dedicated and more. To make this happen, and to fulfill PITT OHIO's Purpose, they employ over 3,200 employees who are committed to doing the right thing every day. Explore their website to see how PITT OHIO is dedicated to the safe and sustainable motor transport of products, doing right by their employees and their customers, and making a positive impact on the environment. To contact PITT OHIO, schedule service, or apply for employment, please visit their website at www.pittohio.com.
---
For more information, please contact:
Candi Cybator, Director of Marketing
cacybator@pittohio.com
412-232-3015, ext. 6313