PITT OHIO EXPRESS Wins CIO 100 Award
Pittsburgh, PA (June 1, 2010) - PITT OHIO EXPRESS is proud to announce that they have been recognized by CIO magazine as one of the CIO 100 Award Honorees. Every year CIO magazine identifies and honors 100 organizations that have distinguished themselves by creating business value through the effective and innovative use of IT.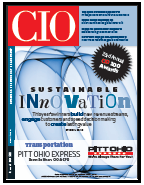 This is the second time PITT OHIO EXPRESS has been honored by CIO magazine as a CIO 100 honoree the first time was in 2007. Scott Sullivan CIO and CFO of PITT OHIO states, "PITT OHIO continues to invest in innovative technology that will drive a better customer experience. Each one of our service centers received a state of the art technical overhaul that incorporates the latest in Voice over IP phone technology, desktop virtualization (Private Cloud), bandwidth optimization, and reliable backup processes that enable business continuity. These overall changes provided PITT OHIO a great return and enhanced our service center capabilities. Being recognized by CIO magazine and being honored with the CIO 100 Award for the second time only further demonstrates PITT OHIO's innovated spirit."



The CIO 100 Award is presented annually by CIO magazine at the CIO 100 Symposium & Awards ceremony held in August.
In adhering to their "We're Always There For You" signature commitment, PITT OHIO EXPRESS is dedicated to providing their customers with the best value in its Less-Than-Truckload (LTL), Truckload, Customer Solutions and Ground services. Headquartered in Pittsburgh, PA, PITT OHIO EXPRESS services the entire Mid-Atlantic and Mid-West regions.
For more information, please contact
Candi Cybator, Manager Marketing/Public Relations
1-800-366-7488, extension 6313
[email protected]