WAREHOUSING AND DISTRIBUTION CENTERS
DO YOU NEED NATIONWIDE COVERAGE TO HELP WITH INVENTORY MANAGEMENT AND DISTRIBUTION?
PITT OHIO's warehouse and distribution centers are the cost effective, efficient and customizable answer to your supply chain needs. We can give you the flexibility you need to confidently move your business forward. We understand your business is different than anyone else's, so we listen to truly collaborate and provide a solution that works.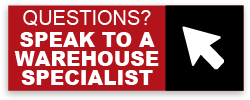 ---
Make Your Job Easier
Our nationwide network of storage solutions can be linked to dedicated delivery or for hire delivery operations. An integrated solution from us that combines transport, warehousing and management services makes your job easier and ensures customer satisfaction.
Expertise to Make You Successful

Our warehouse experts have years of knowledge and best practices to help you with your business. Because we are privately owned, you gain custom, tailored services from experts with the ability to make decisions quickly.



Flexibility on the Spot

If your business is fluctuating, our track record is built on a flexible service. We have the ability to rapidly scale and implement solutions for simple programs to the most complex inventory programs. You gain accurate day to day management of your inventory and exceptional customer service.

Specializing In:
North American warehousing and fulfillment services, including Hawaii and Canada
Long and short-term storage
3PL / shared space and dedicated warehousing services
Pick & pack
E-commerce and Direct to Consumer shipping
WMS and customized reporting
Retail and omni-channel distribution
Cross dock and transloading service
B2B and B2C fulfillment
Food-grade storage
Hazmat storage
Reverse logistics and value-added services
EDI and other API integrations
Consumer goods, bulk ingredients and finished food & beverage products, electronics, solar and alternative energy products, OEM automotive products, and much more
Secured, 24-hour monitored, and alarmed facilities