WAREHOUSING AND DISTRIBUTION CENTERS FOR STORING AND SHIPPING
WAREHOUSING AND DISTRIBUTION CENTERS
PITT OHIO's warehouse and distribution centers are the cost effective, efficient and customizable answer to your supply chain needs. Trust our warehouse management capabilities to ensure the seamless flow of goods to your manufacturing site and/or to your customers. PITT OHIO's warehouses are strategically located adjacent to our truck terminals. PITT OHIO specializes in project work, surging inventory and forward inventory solutions that requires late in the day order processing and transportation carrier pickup.
You can ensure customer satisfaction with our network of storage solutions that can be linked to dedicated delivery or for hire delivery operations. Gain greater efficiency with an integrated solution that combines our transport, warehousing and management services.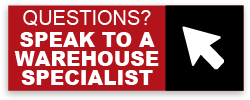 ---
SPECIALIZING IN:
Storage: specializing in meeting surging inventory needs, forward deployed inventory storage and distribution, and short-term project work
Distribution: specializing in Just in Time (JIT), appointment, merge in transit, postponement, cross docking, consolidation, pool distribution, and residential deliveries
Order Fulfillment: specializing in kitting, forward deployed inventory, and processing late orders
Return Management: specializing in solving logistical challenges that are tailored to your needs
BENEFITS:

Simplify your inventory surges with quick resolutions to better handle business demands.
Gain flexibility in your supply chain to make changes on demand
Scale up quickly with our proven agility in our warehouse network
Maximize the speed of delivering your products to your customers
Support your manufacturing processes by managing the overflow of raw materials or finished goods
Ensure customer satisfaction with extended order times.
Gain extended order times while providing next day service to your customers
Integrate warehouse services to provide late in the day pick up times with reliable, next day delivery service
Protect your peace of mind with exceptional customer service and accurate day to day management of your inventory
Better inventory management resulting in improved efficiencies and peace of mind.
Collaborate to develop a plan that meets your needs after engaging in a discussion to understand your requirements
Reduce your costs and gain better service by leveraging our data driven, continuous improvement process
Focus on the growth of your business while we analyze your data to provide a solution to meet your unique needs
Minimize risk in the handling and security of your goods within our owned spaces and with our experienced staff
---
PITT OHIO WAREHOUSE LOCATIONS
Cleveland, OH
Grand Island, NE
Harrisburg, PA
Indianapolis, IN
Pittsburgh, PA
Rock Island, IL
Roseville, MN